No other firm has the same depth of involvement in the design and development of migration legislation in Europe and the member states.
Think of it like this: the EU is a political and economic union of 28 member states. Its legislative triangle composed of the European Commission, the Council and the European Parliament agrees to standardised migration rules for its member states. Member states have to implement the rules at the local level.  While implementing and enforcing the EU rules, each member state maintains an important level of discretion and can have its own country-specific requirements and nuances in relation to a rule. 
As a trusted adviser in the immigration sphere, Fragomen informs and advises the decision-making process at both EU/government and country/local levels. We leverage our legal experience and knowledge of the practicalities of migration legislation and how this affects our clients and businesses at the local level; and then feed back into the ongoing discussion at national and EU level and vice versa. We: 
Make sure our clients' voices and business needs are heard at both the EU/national and local levels

Provide advice to member states 

Develop position papers on a spectrum of mobility issues (e.g. posted workers requirements, Intra Corporate Transferee permits, Blue Card permits, social security, highly skilled entrepreneurial innovators, investor migration policies, etc.), to share knowledge and effect change in policy

Meet regularly with EU institutions, representatives of member states in Brussels, governments in member states and opposition parties  

Strategic litigation to reduce the unnecessary administrative burden of complying with EU and national regulations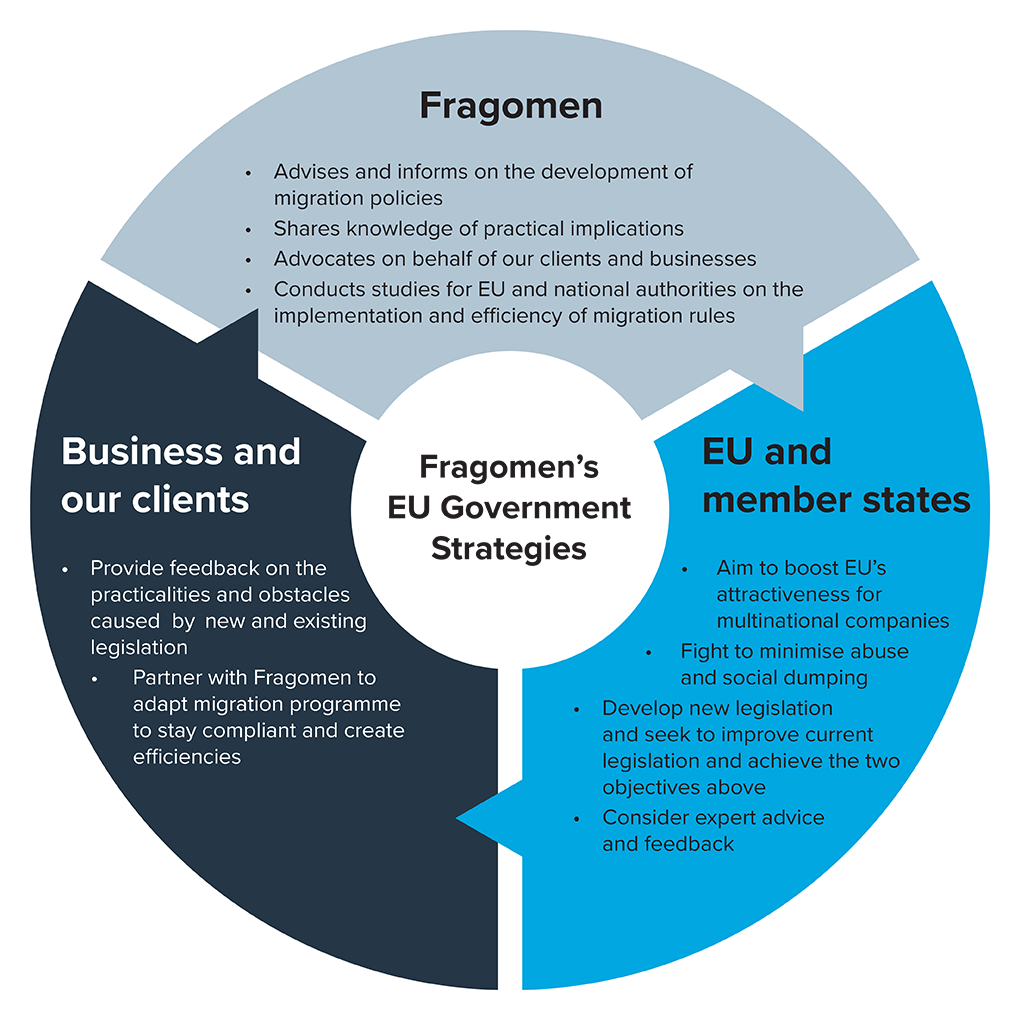 Case studies
1. Fragomen as a member of the European Commission's Expert Group on Economic Migration
Situation: The European Commission formed the Expert Group on Economic Migration(EGEM) composed of various stakeholders including trade union associations, independent experts, business representatives, law firms, NGOs, etc. This group was intended to contribute towards the improvement of immigration legislation and provide the government with expert knowledge.
Result
: Fragomen has been, and continues to be, a 
member
 of the EGEM since its creation in 2015. As part of this group, we contributed to the development of the new EU Intra-Corporate Transferees scheme. Currently, we are monitoring the implementation of this scheme at national level and we are advising EU decision makers about the obstacles the new rules create for companies in practice, and how to overcome them, so that businesses can benefit from the scheme's added value. 
2. Fitness check of the EU's legal migration policy 
Situation: The European Commission ordered a fitness check and compliance assessment of existing EU legal migration directives. Fragomen was part of the group of European law experts providing inputs and guidance to the study.
Result: We leveraged our expert immigration knowledge and practical experience to identify gaps and inconsistencies in the current EU legal framework to contribute towards better management of labour migration. The results of this exercise will be used to:
Increase the EU's attractiveness for businesses
Improve the EU's legislation efficiency 
Respond to the EU's economic and skills needs